Denso Driver Usage¶
Requirements
The setup has ben accomplished.
Step 1: Start the controller¶
Turn on the Controller.
Check that no emergency stop is pressed.
Check that robot is in Automatic Mode. Please keep in mind is your responsability not to access the robot cell during Automatic Mode operation.
Check that robot speed configured in the teach pendant is at least 10%. If speed is not changed, then the robot will move very slow.
Step 2: Robot system configuration¶
Please select the corresponding Denso model from the drop-down menu in the drag&bot Component Manger.
Click on Update and Install.
Click on the PEN icon to edit the driver configuration.
Enter your robot IP address if differs and select your robot model number and activate Autopower for commodity, then click Apply.
Cobotta¶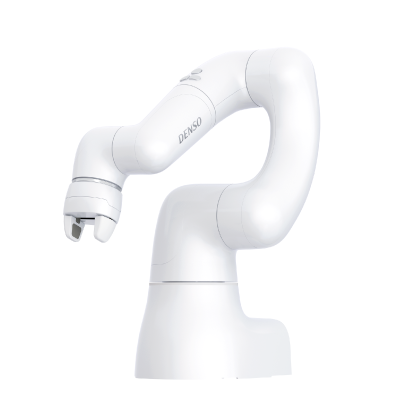 If you are using a Cobotta robot, as it doesn't include a teach pendant you will need to use and Android tablet or phone for this purpose:
Install Denso Remote Teach Pendant application on the Android device.
Connect the Android device through USB cable to the robot. The robot should be already powered.
Activate USB tethering.
Open the application, set the IP address to connect. Now you will see the teach pendant on your Android device.
Cobotta requires also a calibration process before using the robot and after connecting the remote teach pendant. The teach pendant will display te instructions to perform a calibration. Basically brakes will be released and then you need to move the joints until the range limit.
Please contact Denso directly for further information.