Backups¶
In order to prevent major data loss it is recommended to do frequent data backups. Data backups will contain the following content:
Models (.stl, .dae) from the Scenario Manager
Database backup
Datastore contents
Installed programs
Vision calibration, images, ...
Quick poses and quick programs
TCPs
Logs
Automatic backups¶
On every startup drag&bot PRODUCTION will check if an upgrade was made to a higher version in order to trigger the automatic backup. The automatic backups will be stored inside the ~/.dnb_backup folder with the version number from the previously used drag&bot PRODUCTION version.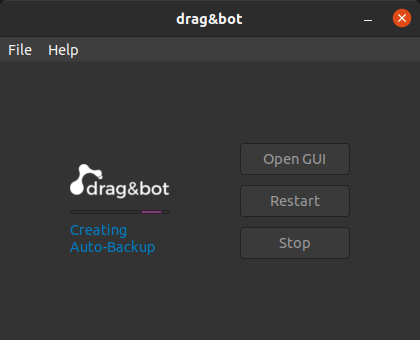 Create a data backup¶
At any given time a data backup can be created from inside the drag&bot Launcher.
Open the File menu
Click on the Backup data entry
Select the target path and a backup name
Click Save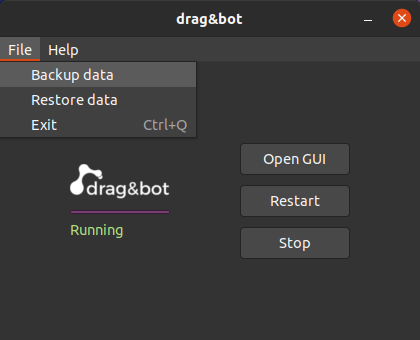 Restore a data backup¶
Backups can be restored by using the automatic or manual trigger backup data.
Open the File menu
Click on the Restore data entry
Select the target path and backup .zip file
Click Load